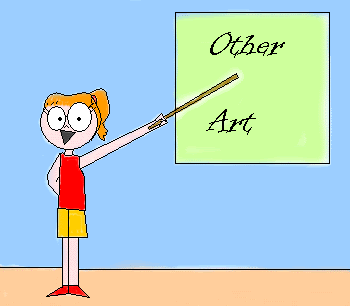 Well, some things I wanted to put up weren't exactly comics, so check back often to see various things put up here. Plus, if you hold your browser over an image, you get a 'secret message'! [Woo am I lame.] NO STEALING PICTURES.
As of 1/26/2007, the pictures from at least to months ago will be turned into text links to reduce page loading time.
February 2, 2007

Another digital thing. I made this myself. It's Usagi from "Sailor Moon" getting electrocuted or something. Or maybe she's having a hissy-fit. Dunno.
January 15, 2007

Just a little mask I made, based on one that I almost got for Halloween. [BTW, the site that makes the bases is here, but don't go there if you don't make dolls and/or don't like to see anatomically incorrect doll bases.]
January 1, 2007
Happy New Year!
NACK: "This is th' last time I let ya play in th' gun cabinet.": I thought I should put up this one today. GASP it's FAN ART from a DEFUNCT STORY and there is more detail HERE. AFN.
December 27, 2006
It was a LOT like this, really.: A comical depiction [more or less] of today when a crazy neighbor kid had to stay for the day. Mom arranged it...maybe because she was to be at work today? So, this depicts me drawing that picture while the kid yells movie lines, my brother shoots things with a foam gun ["FOAM KILLAH"] and my sister plays with a Fur Real Friend panda. All at the same time. Yoi.
November 29, 2006
Not bad for PhotoShop...Still in my own style.: An older May Ray and some dog. This was made at a computer school on Photoshop.
November 13, 2006
NO RLY!: This was part of a L33T project me and some kids made.
Hi! Vote For Me!: This, too, was for a contest. That used to be Jack Layton of the New Democrat Party in Canada.
November 6, 2006
'I spit on your grave.': Interesting story behind this one. This USED to be Bo Derek, but thanks to RubberFaces.com, I made her look like a druggie Joe Camel.
November 5, 2006:
Bad Trip Much?: This one had been inspired by a 1986 ad for a computer wristwatch. [It had this guy with a backwards head standing by a scene similar to the above...it was so COOL.]
Sure Does! : I don't think I need to explain this one. Let's just say I learned how to use 'Print Screen'.